Enable Adobe Captivate 2019 HTML Auto-play
UPDATE : there is an easy fix for this issue in the separate post here
---
In the latest Adobe Captivate version, auto-play is disabled for HTML generated content!
Due to some recent browser updates, all modern web browsers have discontinued auto-playing media in web pages. Similarly, HTML5 and responsive courses created in Captivate will not auto-play. Autoplaying is not honored even after enabling the option Auto Play in Preferences > Project > Start and End.

While SWF videos will continue to auto-play, HTML5 and other responsive courses will not auto-play.
So, if you haven't seen the disabled Auto Play option for Captivate before, surely you can't miss it with Adobe Captivate 2019 release. The auto-play option is now disabled by default in the project settings and all projects published with 2019 version will be auto paused when you preview them. From now a user needs to click on the play button of the starting blank screen in order to play a project.
Tested on Adobe Captivate 11.0.0.243
Once you open project preferences in CP 2019, the Auto Play option now has this info icon next to it that opens the page with a brief explanation why auto-play is not working anymore:
https://helpx.adobe.com/captivate/kb/captivate-responsive-courses-not-autoplay-browsers.html.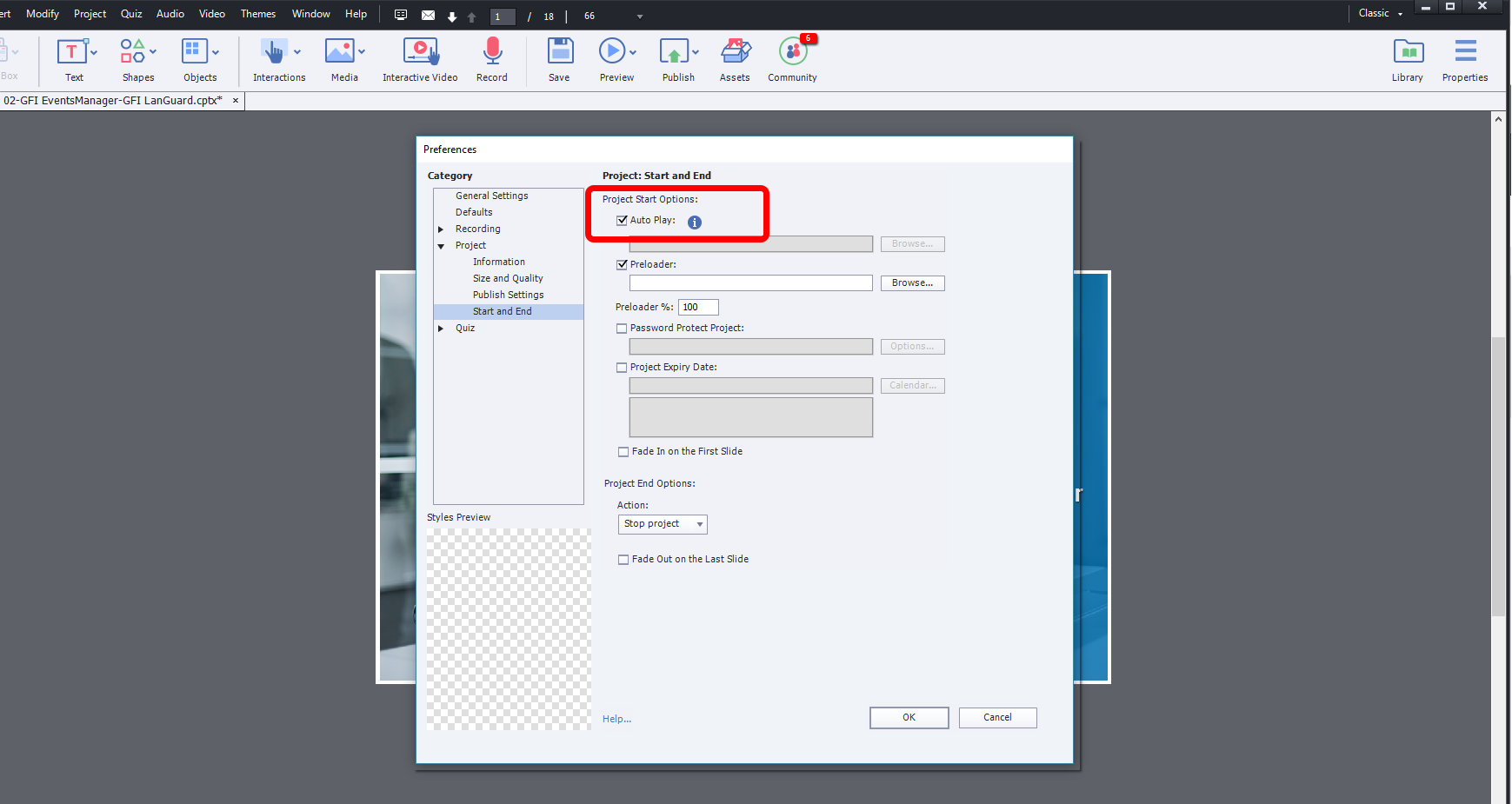 While disabled auto-play does indeed improves HTML playback in Google Chrome, it's not clear why this option with the check mark is still available in the preferences screen if the feature is disabled. In my opinion Adobe is forcing to disable Auto Play as a quick fix to resolve issues with HTML playback in Chrome that are present since CP version 9. The issue can be reproduced if you extract .zip project and open index.html in Chrome. The page will not load and the loading icon will be displayed until the page is refreshed a couple of times. Sometimes the content will auto-play the first time the page is opened, but it won't load the second time you open it or refresh it.
While it does make sense to disable auto-play if all courses are displayed on a single page – to prevent all courses from loading at the same time, it does not make any sense to limit customers to this solution only, as it is breaking a concept for most of implemented solutions where a single course is displayed in a separate page.
How to enable HTML Auto Play option in Adobe Captivate 2019
Follow this procedure:
1. Publish the project.
2. Extract .zip archive
3. Edit CPM.js script located in ROOT>assets>js folder
4. Search for the following line:
a.fireModuleReadyEvent(a.currentWindow),a.autoPlayNeedsUserClick()||a.D.project_main.autoplay&&(a.currentWindow.cpAPIInterface&&a.currentWindow.cpAPIInterface.canPlay())&&a.movie.play())
5. Replace it with this code:
a.fireModuleReadyEvent(a.currentWindow),a.device==a.DESKTOP&&a.D.project_main.autoplay&&(a.currentWindow.cpAPIInterface&&a.currentWindow.cpAPIInterface.canPlay())&&a.movie.play())
6. Replace CPM.js file in .zip project archive with the edited one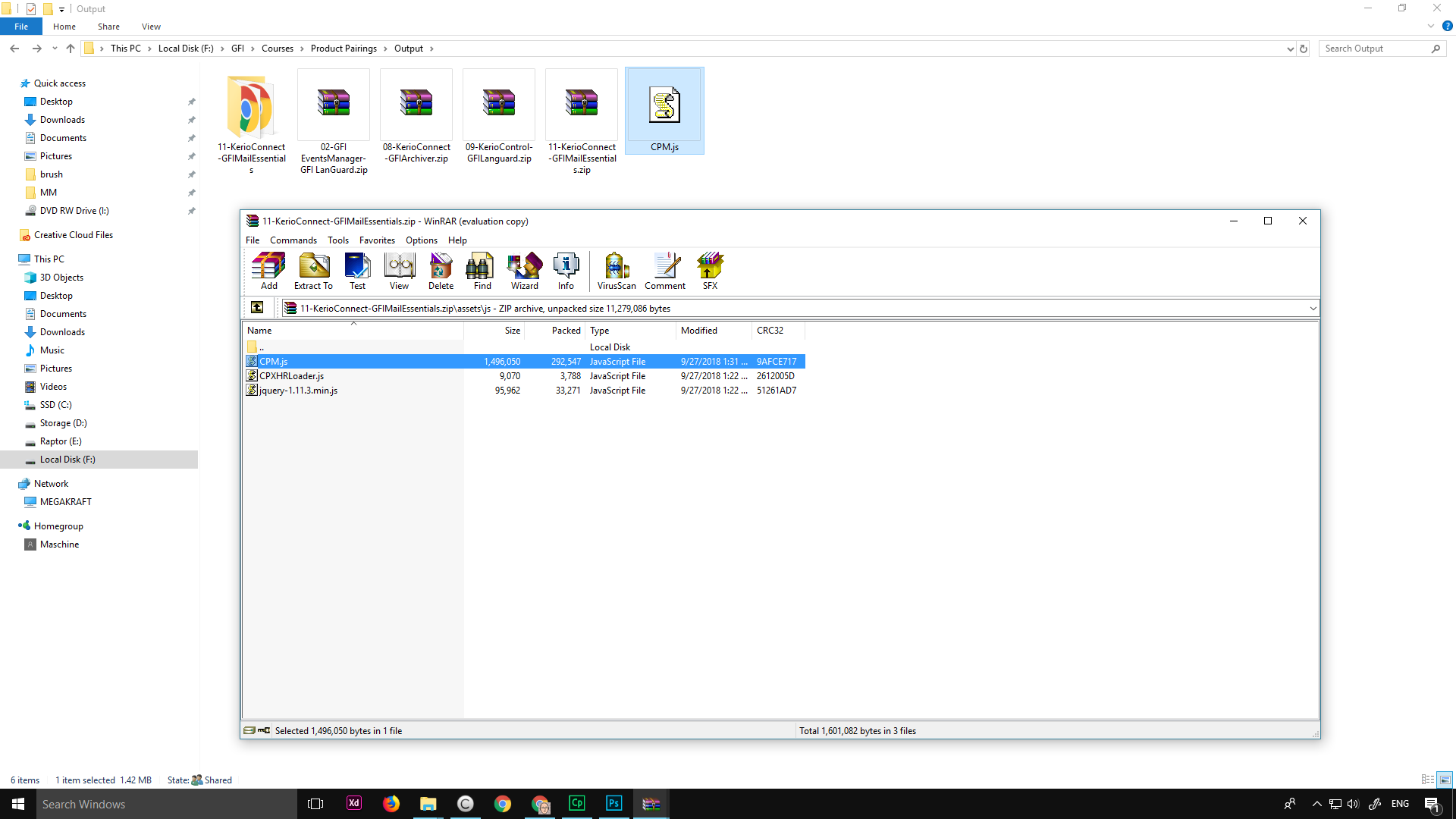 7. Once you have your .zip archive ready, you can publish it on a LMS of your choice.
To enable HTML auto play, this procedure must be performed for each CP 2019 generated project, as currently there is no quick fix for this issue that I am aware of.
Note: when applying this fix, make sure that the Auto Play option is enabled in the project settings.
---