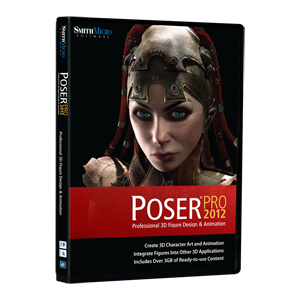 Those who are into 3D are familiar with Poser application by SmithMicro. As its name suggests it is used mostly for posing 3d figures and animation also. Easy and intuitive software environment is abundant with professional tools that you can use to bring your 3d characters to perfection. There is a variety of rendering options and it will require some basic understanding of textures and lightning options. You can import your own 3d shapes and characters, put some basic bones on them and custom textures and morphs, or you can play with many existing characters that are included in content library. You can also download more free characters, most popular characters can be found on DAZ official website.
Poser Pro 2012 is the most stable release so far and its rendering results are much better then in previous versions. You will also need a good machine with decent graphic card if you don't want your rendering to take forever…
Poser is a virtual photo or film studio. Add the human element to any project – still or animated – without the hassle and cost of using real models and sets. Poser comes complete with ready-to-pose 3D human figures, hair, clothing, props, scenery, and all the features, lighting and camera effects you need to make something – or someone – extraordinary.
Here is a sample of Poser animation render inside interactive Flash project. This is just quick pose from generated DAZ Mimic project, the more time you spend adjusting movements and morphs on animation palette the more realistic animation would look like. Mimic Pro is a separate product from DAZ that allows you to animate character speech using prepared wav audio files. Ivona Text to Speech is a good lip sync software (technology) that you can use to generate realistic speech audio files.